Octavia Single Serve Pods *Medium-Dark Roast*
Octavia is a rich, well-balanced, medium-dark roast of Arabica beans. With tasting notes of dark chocolate and a hint of molasses, Octavia elevates your everyday coffee to truly awesome.

Each box contain 24 individually packaged pods that are perfectly ground for maximum extraction. Our coffee pods can be used in most single-serve coffee machines. These pods do not have a barcode on them, so if your machine requires a barcode in order to make your drink, these will not be compatible.

Our single serve pods and packaging are FULLY COMPOSTABLE! So you can do good for the planet as well! GreenPods are made from components that have been certified for industrial compost facilities. You can compost these at home or check with your composting service to confirm they accept these as some facilities differ in what materials they can process. To learn more about composting, and how to compost at home, visit greenpodcoffeepacking.com/education/ 
Share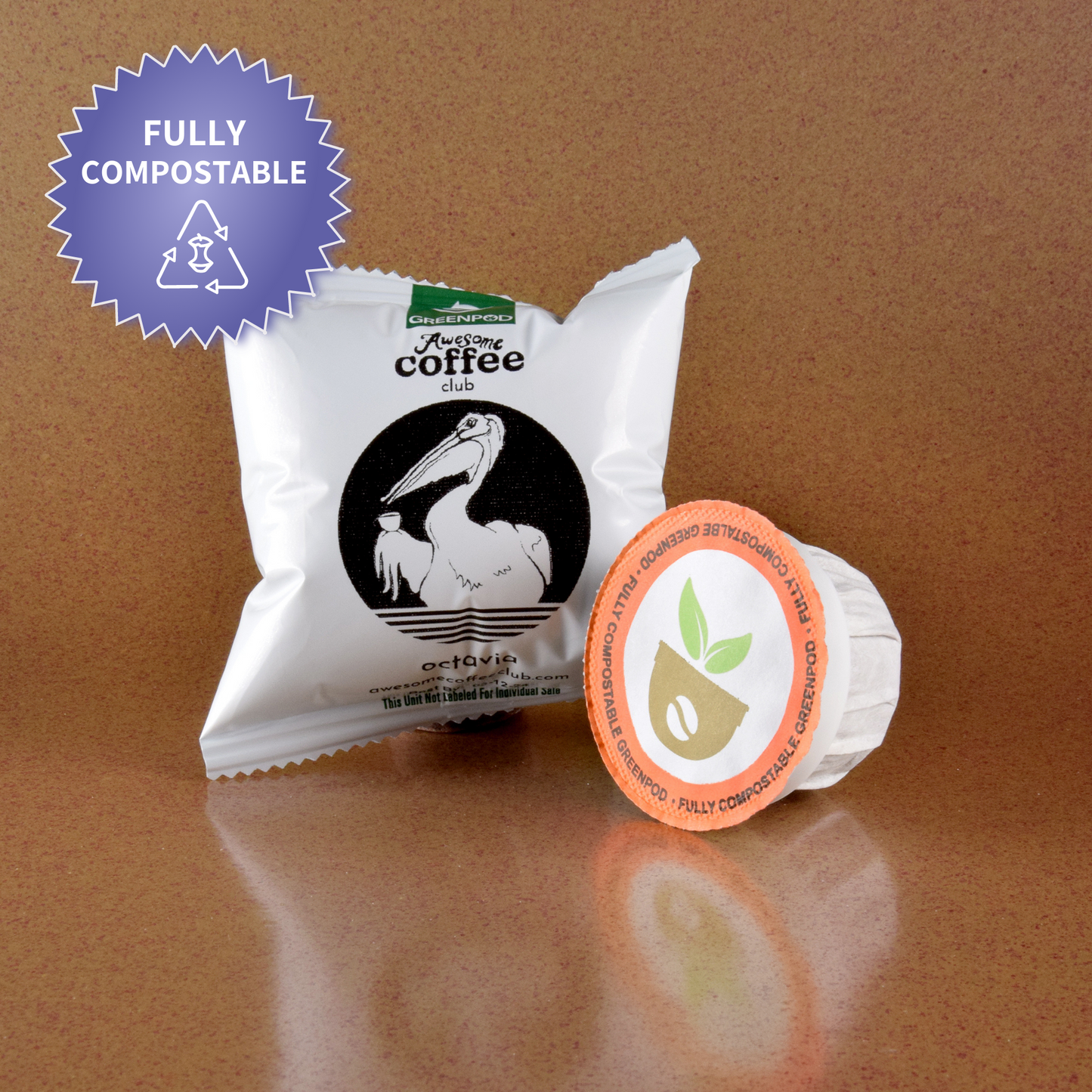 How it Works
Subscription

You will receive the same coffee each time. Just choose how much coffee you would like to receive and how often!

Available in 12oz bags, 5lb bags or 24 single-serve pods.

Billing

For a monthly subscription, you will be billed on the same day you signed up each month.

-

For a two week subscription, you will be billed every two weeks.

Timeline

Your coffee will ship out within 5-7 business days of your bill date.

Shipping

Shipping is free! If you've got an address in the US or Canada that receives mail, we can ship to it. Tax is not included.

(We are unfortunately unable to ship outside of the US or Canada.)

Cancellation

You can cancel at any time; no questions asked!

(Your subscription will continue until you cancel)

And the best part is...

100% of profit goes to charity!
How's the Coffee?
We tested dozens of coffee roasts to pick the right ones to use for the Awesome Coffee Club. We now offer two different roasts plus decaf coffee!
Octavia is a medium/medium-dark roast of arabica beans and has bold chocolate notes that are a little on the dark side and a roasty flavor (without tasting burnt). 
Calypso is a rich, well-balanced, light roast of arabica beans with tasting notes of baked apple, chocolate, and brown sugar.
Paradoxa is a balanced medium-dark decaf roast of Arabica beans. It is sweet with slightly fruity notes of cherry and cocoa.
More About the Coffee
Want to try the coffee before subscribing?
We now offer a one time purchase option so you can try the coffee and make sure it'll be something you love.
Buy One Bag
Join the Club
More coffee products are in the works! Enter your email to be the first to know about important updates and new products from the Awesome Coffee Club.
Sign Up Here
More You Might Like
Regular price

Sale price

$24.00 USD

Unit price

per

Regular price

Sale price

$24.00 USD

Unit price

per